Garside Signs and Displays In The Press


In the news! Below is an article published in the Victoira BC business examiner. Enjoy!
-----------------------------------------------------------
The Spotlight on Garside Displays!
Business Examiner advertisement.
Design Expertise and Giant Graphics for Signage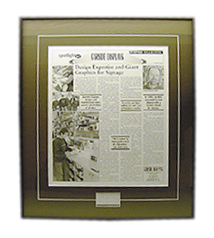 You need signage. You want it with style. You want full-service design consultation and expertise. Do you want full-color graphics as well? You need to talk to Garside Display.
Garside Displays designs and manufactures signs, posters and displays of all sizes. Their specialty is award-winning large format graphics that show a flare for design. For 45 years they've been pleasing customers around Victoria, and they're always happy to help someone new.
Garside Displays can make signage and display materials for almost any purpose. They frequently do work for government, private businesses, property management companies, and advertising and design firms. Some of their clients have included the Royal BC Museum, BC Ferries, Pacific Coast Savings and Copeland Communications.
Owner George Anderson is candid on Garside's strengths. "We're noted for high quality work at a fair price," says Anderson. "When you see us, you can see you're getting the best product possible. We have experienced staff with real design expertise, and we use the best technology."
Their technology included large format, 54 inch wide full-color printer, laminator tomatch, and the latest in vinyl-cutting equipment for creating signs, banners, posters, displays, decals, vehicle lettering and more. They also have equipment for making sandblasted wooden signs and three-dimensional lettering.
"Many people imagine sign makers as people who are painting lettering and images by hand," says Anderson, "But it's virtually not done anymore. Just about everything is automated and computerized, and innovations such as vinyl lettering have made for more durable signage."
Garside Displays provides customers with full-service on every project. They discuss the customer's signage needs with them and how their signage fits into their overall communication plan or image. Then they confirm the specific mediums or signage products that will be employed.
When the customer requires design services, Garside also creates drafts and develops them to the client's satisfaction. Garside tries to address every customer concern and question before the signage is sent to production. "No one wants to be disappointed," says Anderson, "We want happy customers who leave with the quality sign or poster they expected."Scanning and typesetting are both part of Garside's services.
"Only a few sign shops are heading in the direction of scanning and full-color imaging," says Anderson. "It requires a tremendous investment in computers and equipment, as well as staff and training. Most of the new technologies have steep learning curves to master them. That's where we excel at Garside Displays - our staff are technically proficient, and our equipment is on the cutting edge."
By being a leader in quality, expertise and technology, Garside has been chosen to create some of the most widely seen signage around Greater Victoria and Vancouver Island. Garside signs and lettering appear throughout both the BC super ferries, and the Royal BC Museum's Leonardo da Vinci and Whales exhibits both used Garside's signage. Garside signs also provided signage for the Commonwealth Games in 1994.
In the shop, Garside employs six designers and sign makers. Two of them are second generation sign makers, and all of them have worked their way up the signage business to become multi-skilled.
The demands of our business require that everyone in the shop can do everything, explains Anderson. "So when a customer talks to us, they get experienced advice and service no matter who they meet with."
Garside's design expertise has been officially recognized by the Graphic Designers of Canada. In 1995, the GDC presented Garside displays with a Creative Award for signage.
"We have a big emphasis on design in our shop," says Anderson. "we have experienced designers who are designers and sign makers first, computer people second. They enjoy injecting fresh ideas into any project they're allowed to, so many of our customers have looked to them for direction at times."
Garside commands the niche in graphic design and production technology, and Anderson/s goal is to stay true to their strongest suits as they move into the new millennium. "We're not the only sign shop in Victoria, so we want to make ourselves the preferred choice for customers. We'll create that preferred status by continuing to show our creativity and by staying current with the best of the new technologies."
Garside displays have signage and display solutions for you. When you want quality signage and display materials, look to Garside for expertise and full-service. Call 385-4825 to talk with an award winning company, and know that you're getting a job well done.