Pop-Up Trade Show Displays - Spyder Pop-up Display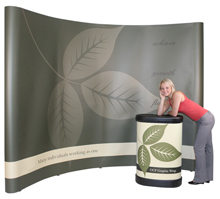 The Spyder is quite possibly one of the most advanced popup display systems on the market! It offers the very best in display technology and state of the art materials–
featuring fully magnetic locking arms, panel hangers and channel bars. It's extremely fast to assemble– the internal 'web' cross bracing provides additional strength and rigidity for a nearly unbeatable finished appearance.
This Spyder 4x3 kit comes with panel hangers and two of our 200 watt halogen flood lights, packed in an OCP case. The size is 95.348" wide including endcaps and stands 93.969" high. Footprint for Spyder 4x3 is 117.75" wide x 36.125" deep.



For more information on this product pleasecontact Garside Signs & Displays today at 250-385-4825.